Kraken Release 0.492
Kraken Founder. I'm software engineer focused on full-stack programming and improving software processes.
The 0.492 release contains one feature:
and two fixes:
fixed collecting commits info in case there are deleted files
fixed returning tests results counts - mistake during code cleanup
The status badges indicate the current quality of a branch of a project.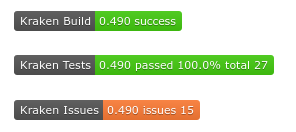 There are three types of badges. They are indicating:
building state (if there are no errors)
tests results with fixes and regression counts
issues count with a count of newly discovered issues
Links to the badges are available on a branch management page, in the Status Badge tab: